What are Hammertoes?
If your toes are becoming bent or crooked, you may have hammertoes. The affliction is so named because the toes sometimes resemble the shape of a hammer. Patients will usually have pain at the top or at the end of the toe. Hammertoes often begin rubbing in shoes and as a result will become red and swollen. Sometimes hard tissue—known as a "corn"—will build on the top or end of the toe.
Causes
The most common cause of hammertoe is a muscle/tendon imbalance. This imbalance, which leads to a bending of the toe, results from mechanical (structural) changes in the foot that occur over time in some people.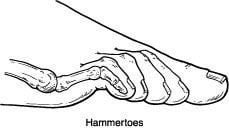 Hammertoes may be aggravated by shoes that don't fit properly. A hammertoe may result if a toe is too long and is forced into a cramped position when a tight shoe is worn.
Occasionally, hammertoe is the result of an earlier trauma to the toe. In some people, hammertoes are inherited.
Symptoms
Common symptoms of hammertoes include:

Pain or irritation of the affected toe when wearing shoes.
Corns and calluses (a buildup of skin) on the toe, between two toes, or on the ball of the foot. Corns are caused by constant friction against the shoe. They may be soft or hard, depending upon their location.
Inflammation, redness, or a burning sensation
Contracture of the toe
In more severe cases of hammertoe, open sores may form
Non-surgical treatment
Most of the time hammertoes can be treated conservatively, without surgery. These treatments include:

-Padding corns and calluses. Your foot and ankle surgeon can provide or prescribe pads designed to shield corns from irritation. If you want to try over-the-counter pads, avoid the medicated types. Medicated pads are generally not recommended because they may contain a small amount of acid that can be harmful. Consult your surgeon about this option.
-Changes in shoewear. Avoid shoes with pointed toes, shoes that are too short, or shoes with high heels – conditions that can force your toe against the front of the shoe. Instead, choose comfortable shoes with a deep, roomy toe box and heels no higher than two inches.

-Orthotic devices. A custom orthotic device placed in your shoe may help control the muscle/tendon imbalance.
-Injection therapy. Corticosteroid injections are sometimes used to ease pain and inflammation caused by hammertoe.
-Medications. Oral nonsteroidal anti-inflammatory drugs (NSAIDs), such as ibuprofen, may be recommended to reduce pain and inflammation.
-Splinting/strapping. Splints or small straps may be applied by the surgeon to realign the bent toe.
To make an appointment call our offices at 503-244-7894 in Portland and 360-834-3707 for our locations in Vancouver and Battle Ground, Washington. You may also request an appointment online.